WASHINGTON — 
Each time U.S. military and diplomatic officials asked their Israeli counterparts in recent days what the endgame was as warplanes bombarded the Gaza Strip, the Israelis said, "Not now."
The time was now to crush the Hamas militant group that made Oct. 7 the deadliest day for Jews since the Holocaust and figure out the aftermath later, the Israeli officials said, according to sources in the U.S. and Israel familiar with the talks.
This raised alarm for American officials who feared that Israel did not have a clear path to its stated goals of eradicating Hamas and that the conflict could widen disastrously throughout the region as the number of Palestinian casualties ballooned.
In response, the Biden administration urgently dispatched a team of senior military officials to Tel Aviv, led by a three-star U.S. Marine general with experience in Iraq, to urge that a well-planned urban combat strategy be articulated while taking steps to minimize the killing and starvation of Palestinian civilians.
The result, so far, has been a slower ground incursion by Israel into the Gaza Strip, accompanied by relentless air bombardment — in contrast to past massive, swift all-at-once invasions that the region's most powerful army has unleashed. It is a multidirectional offensive covered by not so much a fog of war, but a cloud of confusion and diversion. Hamas holding more than 200 Israeli, American and other nationality hostages is also an incentive to move more cautiously, the U.S. officials argued.
While those consultations took place behind closed doors, President Biden and others in his administration began to shift their public rhetoric from scant mention of the Palestinian dead amid unconditional support for Israel to talk of humanitarian mercy for Palestinians and "protecting civilians in combat as best as they can," as Biden put it.
Israeli officials were receptive to discussing urban warfare that might include more surgical strikes and limited, gradual land incursions.
Israel also conceded to U.S. demands that it restore internet service in the Gaza Strip after cutting it off on Friday, an act that plunged a the besieged area into an almost-complete communications void, senior administration officials said.
The Israelis were more resistant, however, to alleviating the suffering of the Palestinians in Gaza by opening up humanitarian corridors, citing their belief that fuel, water and other aid would end up in the hands of Hamas, the officials said.
The extent to which U.S. advice is followed will be tested in the coming days as Israel launches what it calls its next stage of war on Hamas, even as the Palestinian civilians killed during relentless airstrikes number in the many thousands, a large percentage of them children.
"I would like to thank the U.S.A. for their support," said Benny Gantz, an opposition politician and former defense minister who three weeks ago joined an emergency war cabinet with Prime Minister Benjamin Netanyahu, as his government announced the new offensive on Saturday. "We're going to listen to our friends, but we're going to do whatever is right for us."
::
At the core of the U.S. advice to the Israelis are lessons learned from brutal urban warfare in Iraq, notably in the cities of Fallujah, a short-lived and largely unsuccessful tank and infantry-heavy operation in 2004, and Mosul a decade later, where U.S. and other forces evicted Islamic State terrorists —after 11 months and around 10,000 civilian deaths.
Marine Corps Lt. Gen. James Glynn, who heads the delegation of U.S. advisors sent to Israel, served as a commanding officer in Iraq in the mid-2000s and led special operation teams in several other foreign deployments.
"A few U.S. military officers with relevant experience to the operation the Israelis are conducting" have been dispatched to Israel, White House National Security Council spokesman John F. Kirby said last week. "[They] are over there to share their perspective and to ask hard questions — the same hard questions we have been asking our Israeli counterparts since the beginning."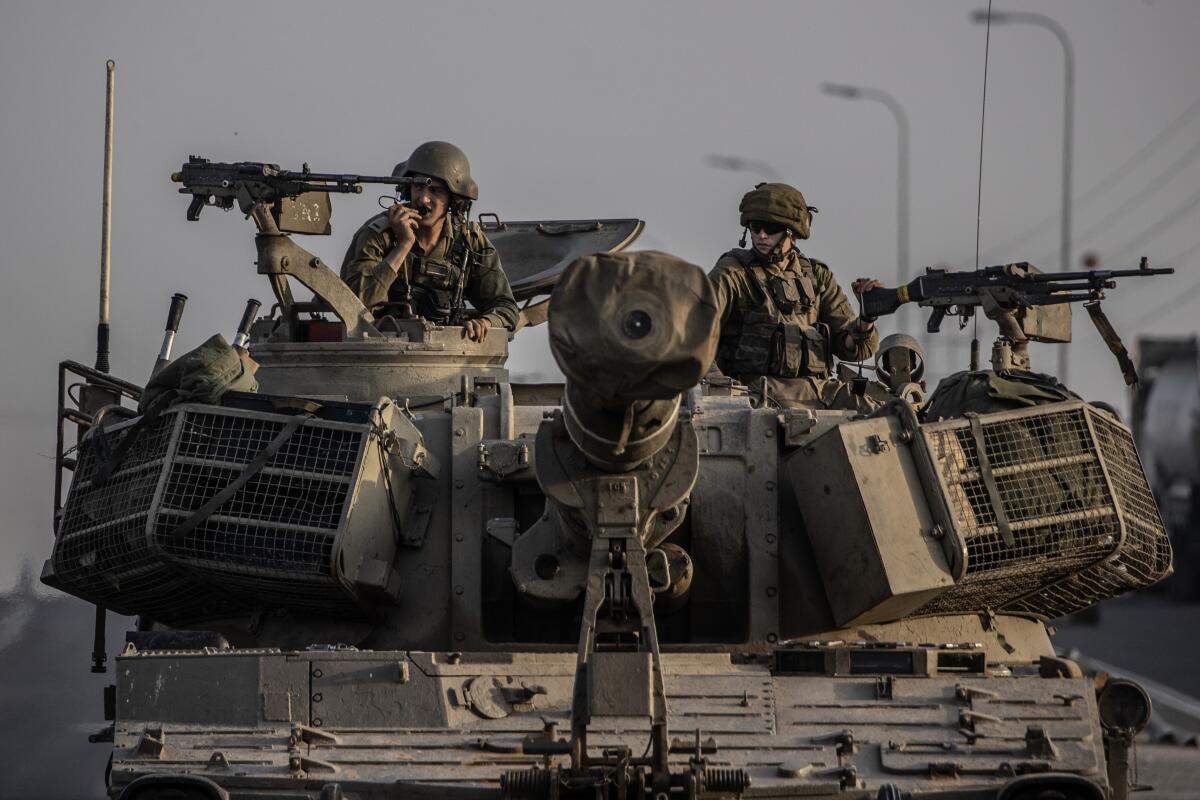 Amid the Gaza offensive, Defense Secretary Lloyd J. Austin III traveled to Tel Aviv, where the Israel Defense Forces are headquartered. He has been in regular telephone contact with his Israeli counterpart, Yoav Gallant, recountingthe Mosul campaign among other war experiences, the Pentagon said. Austin was head of U.S. Central Command at the time.
"The first thing that everyone should know, and I think everyone does know, is that urban combat is extremely difficult," Austin said on ABC's "This Week With George Stephanopoulos." . He has repeatedly said that he is telling the Israelis "to conduct their operations in accordance with the law of war" and to make every effort to avoid civilian casualties.
"One of the things we've learned is how to account for civilians in the battle space," Austin said. "In accordance with the law of war, we've got to do what's necessary to protect those civilians."
Two decades ago, the tables were turned. As they were about to invade Iraq in 2003, U.S. military commanders, went to Israel to seek the Israeli military's know-how on urban warfare in the West Bank, recalled retired Israeli Maj. Gen. Gadi Shamni, former commander of the army's Gaza division, who also oversaw operations in the West Bank. That experience came during the second intifada, or Palestinian uprising, in which the Israeli army battled Palestinian militants for several years starting in 2000 after peace talks collapsed.
"There has been a lot of exchanging of knowledge between us and the U.S. military over the years," Shamni said in an interview. "The U.S. military has accumulated a lot of experience in the last years. … They wanted to make sure Israel had a coherent strategy."
Biden and other U.S. officials have said publicly that they cautioned Israel against acting out of a quest for revenge, noting the United States made mistakes after the 9/11 attacks in New York and Washington.
"Initially, the Americans were trying to suggest, 'Hold your horses, think it through, don't rush,'" said Nimrod Novik, former military advisor to former Israeli Prime Minister and President Shimon Peres. Novik is the co-founder of a group of retired military officers seeking peace with the Palestinians.
"The Israeli answers were the same: The focus is [on] winning," with no attention to the aftermath, Novik said. "The U.S. would say an exit strategy and morning-after plan should inform your strategy. That is the very definition of winning."
After forming a war cabinet, inviting Gantz and other less radical opposition politicians into Netanyahu's government, professionalism overcame the emotions, if not the zeal.
::
On Monday, Netanyahu adamantly rejected international calls for a cease-fire. Diplomats and experts say that any modicum of restraint will more likely be a political calculation with a view to saving hostages, and with the awareness that the window of international support will close as the likelihood of inflamed violence from Iranian proxies, such as Hezbollah in Lebanon or the Houthis in Yemen, expands.
"There's no doubt that the [modus operandi] of encouraging, urging, even forcing [Palestinians] to evacuate [to southern Gaza] was Israel," Novik said. "The humanitarian corridors, pauses, convoys — that was pressed on us by the Americans."
Part of Israel's decision to relent came with a realization that depriving hundreds of thousands of people of water and medicine would erode international support for Israel.
Get breaking news, investigations, analysis and more signature journalism from the Los Angeles Times in your inbox.
You may occasionally receive promotional content from the Los Angeles Times.
Still, U.S. officials said, negotiations to open the Rafah crossing in southern Gaza, on the border with Egypt, to allow the entrance of food, water and medicine have been like pulling teeth. It has taken persuading Israel to allow the opening but also getting Egypt and Hamas on board, through mediator Qatar. Normally, hundreds of trucks with supplies would be passing through every day, but so far only a trickle of them has been allowed. Forty-five trucks went in on Sunday, the State Department said, the largest number since Oct. 7.
"It's like unlocking a puzzle where you unlock a layer that can unlock one little piece of it, and then another obstacle pops up, and you've got to go figure out with all the parties how to unlock that piece," a senior State Department official said, speaking anonymously to discuss internal debates. "You can imagine how difficult every little thing is, every bit of this is complicated."
U.S. officials say they have repeatedly told Israel to observe humanitarian and international law, and to make every effort to avoid civilian casualties in Gaza, but the relentless bombardment of entire neighborhoods, along with hospitals, schools, mosques and one of the world's oldest Christian churches, would seem to run counter to such an effort.
Israel said it ordered Palestinians in the northern half of Gaza to move to south of the Gaza Wadi for their safety. But there are conflicting reports: Many Palestinians are reluctant to leave their homes for fear they will not be allowed to return, replicating the historical displacement from their homelands that Palestinians have suffered throughout history. Some find it logistically impossible to move, and Hamas has also been accused of telling people not to relocate.
Asked repeatedly if they believe Israel is observing humanitarian law and international rules of war, U.S. officials have demurred, noting that Hamas places military targets within civilian spaces and refusing to pass judgment on Israel.
"This is a conversation we have consistently had with our Israeli counterparts," Kirby said Monday. "All we can do is work with our counterparts on the minimization of civilian casualties."
Reach Out
Don't hesitate to reach out to us to discuss your specific needs. Our team is ready and eager to provide you with tailored solutions that align with your firm's goals and enhance your digital marketing efforts. We look forward to helping you grow your law practice online.
Our Services:
Blog Post Writing
We do well-researched, timely, and engaging blog posts that resonate with your clientele, positioning you as a thought leader in your domain.
Content Writing
Beyond articles and content for blogs, we delve into comprehensive content pieces like eBooks, and case studies, tailored to showcase your expertise.
Website Content Writing: First impressions matter. Our content ensures your website reflects the professionalism, dedication, and expertise you bring to the table.
Social Media Management
In today's interconnected world, your online presence extends to social platforms. We help you navigate this terrain, ensuring your voice is consistently represented and heard.
WordPress Website Maintenance
Your digital office should be as polished and functional as your physical one. We ensure your WordPress site remains updated, secure, and user-friendly.
For more information, ad placements in our attorney blog network, article requests, social media management, or listings on our top 10 attorney sites, reach out to us at seoattorneyservices@gmail.com.
Warm regards,